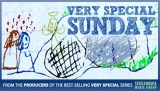 A Very Special Sunday
Now 50% off for one-week only!
> Celebrate the Resurrection through the eyes of a child. Listen to their words attentively. They are not empty words, but rather pure theology of unadulterated innocent minds which Jesus loves. Take your congregation on a journey through the Passion story as its never been told before!
17,875 Views