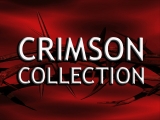 Crimson Collection - SD & HD Loops with BONUS stills
Great money-saving collection includes three loops featuring a deep red crimson abstract motion pattern. All items loop in a perfectly seamless fashion and are very text-friendly. Great with songs like "O The Blood" or "Nothing But the Blood." BONUS: Still background versions are also included at no additional cost!
TO SEE THE ITEMS IN THIS COLLECTION IN AN EVEN LARGER BUNDLE, CLICK HERE.
1,166 Views
$8.00
Add to Cart
Add to Wishlist